Slanted teeth can be embarrassing, and they can cause challenges for your confidence and self-esteem. They may occur because of mouth crowding, accidents, tooth extractions, tooth disorders and the like.
What Can I Do About My Slanted Teeth?
Fortunately, dental technology has advanced to great levels. A number of options are available to help to give an even appearance to your slanted teeth. An orthodontic specialist can help you to develop an effective treatment plan. The following are several options that you can consider using to restore your slanted teeth:
FAQ
Can I Wear Braces for Straightening Slanted Teeth?
Braces are one of the leading treatment methods that orthodontists use for slanted teeth. Braces are devices that pull the teeth together according to the orthodontist's calculations. The length of time it takes to restore slanted teeth depends on the severity of the problem and the braces that your orthodontists use on your mouth. Several types of braces are available, and each option has a different benefit.
What Are The Different Types of Braces?
The most common type of braces is metal. Metal brackets and braces have proven themselves effective over several decades. However, the metal option may not be an option that you would like because of the visibility or discomfort. Lingual braces can provide you with more discretion than traditional braces because the orthodontist will place them behind your teeth. Damon Braces are smaller than traditional braces are, and they have a self-ligating feature that will keep you out of the orthodontist's office for frequent tightening.
Invisalign is an effective new option for people who prefer to have extreme discretion. Invisalign is a system that uses clear plastic aligners that only you can see. You can remove the aligners whenever you would like to eat or brush your teeth. The length of time it takes for your slants to straighten will depend on the angle of the slants. The orthodontist can explain the treatment process to you in detail. A multitude of additional options is available for you, as well.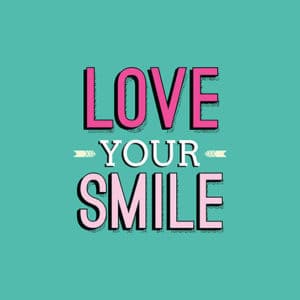 Can I Wear Porcelain Veneers for Slanted Teeth?
Another option that you can use to repair slanted teeth is porcelain veneers. Porcelain veneers are shells that the orthodontist can bond to the front of your teeth to create a straight and even appearance. They are an excellent option if your budget does not allow for braces treatment. The advantage that porcelain veneers offer over braces is a quick turnaround. You can receive porcelain veneers in one sitting, and you will see immediate results.
If you are suffering from slanted teeth, then you will want to speak with a compassionate and caring orthodontist as quickly as possible. During your consultation, the two of you will discuss the best treatment options based on your situation. Your care will be personalized, and the orthodontist will always make your happiness a first priority. Someone will schedule you for an initial screening that will include an X-ray and a physical examination. At that time, the orthodontist can explain the choices that you have for repairing your slant.
Call Today
When you are faced with orthodontic treatment and want the brightest smile possible, make an appointment to visit Beach Braces Orthodontics. With a caring and professional staff, this Manhattan Beach orthodontics practice will ensure you walk away happy and confident in your new smile!
Beach Braces
1730 Manhattan Beach Blvd.
Suite B, Manhattan Beach, CA 90266
TEL: 310-379-0006
Slanted Teeth: Not a Problem Anymore
Related Articles
http://www.beachbraces.org/wp-content/uploads/2016/12/Love-Your-Smile_Beach-Braces.jpeg
543
543
Dr Patricia Panucci
http://www.beachbraces.org/wp-content/uploads/2016/01/logo-beach-braces-orthodontics.png
Dr Patricia Panucci
2017-05-26 10:00:25
2017-11-23 04:59:41
Slanted Teeth: Not a Problem [Anymore]