Self Ligating Braces – In-Ovation R (Metal)
Now you can look good and feel confident about your smile during and after your orthodontic treatment. In-Ovation brackets have a much lower profile than other self-ligating braces available today.
Without the need for elastics or metal ties, you will experience less plaque build-up and less irritation. Most importantly, you will be able to keep your teeth and braces clean. Below are some images of the In-Ovation R (metal) self-ligating braces used by Dr. Panucci to create beautiful smiles.
Self Ligating Braces: In-Ovation C (Clear)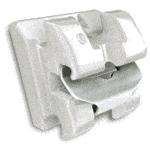 Approximately 25-percent of all orthodontic patients are adults. In-Ovation C provides faster results with fewer appointments and shorter treatment time.
Because of these reasons, more adults are choosing to invest in their smile, dental health and confidence than ever before.
The average In-Ovation Patient has 40% fewer appointments than patients with traditional brackets and finishes their orthodontic treatment an average 4 months sooner. No wonder In-Ovation is proving to be one the leading choices by orthodontists to create beautiful smiles.
Contact Beach Braces to schedule your complimentary appointment today!
Patricia J. Panucci DmD, MS • Specialist in Orthodontics for Children and Adults in Southern California
Self Ligating Braces