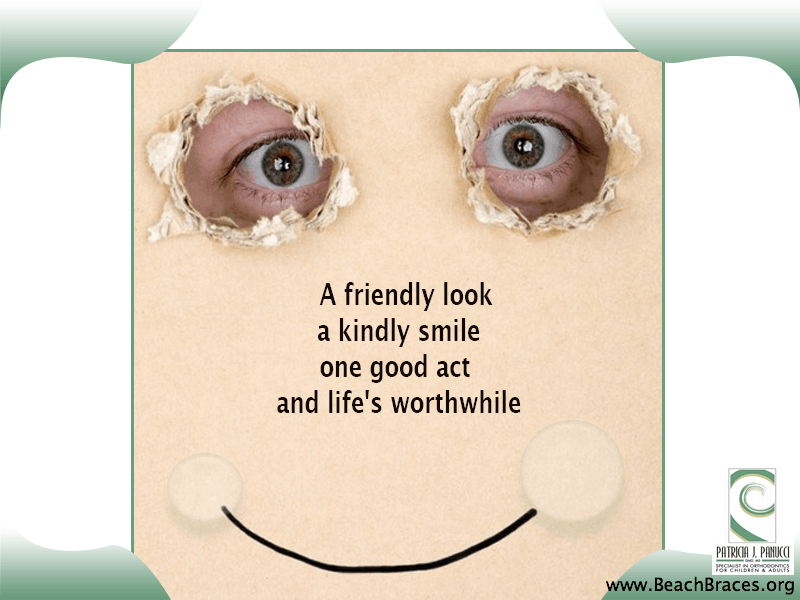 Smile Quote # 29: A Friendly Look, A Kindly Smile, One Good Act, and Less Worthwhile.
Helping other people is perhaps one of the best ways that we can make a connection and feel great in our lives. Taking the time to volunteer or even helping your friends and family as much as possible can reward you with positivity and happiness that you can carry on with you through your day and beyond. When you help someone out there is a good chance that they will reward you with a smile or more. In some cases however a smile can be all that you need to keep you feeling positive for the rest of your day.
Positivity makes us pass positivity along to other people. It makes us more efficient in our work and also helps us to enjoy less stress in our lives. Taking the time to make others feel positively and to feel positive about yourself is very important to enjoying a good quality of life. Whether you take the time to help someone with an act, a smile, or even just some well-wishing can really affect the way that they feel about you and the positive feelings that they might experience throughout their day as well.
Positivity is contagious and something as simple as sharing a smile with another person means that that smile will most likely carry on to others. You have a great means of communication with other people and it only lies in your smile. Some people however cannot share their smile quite as easily as others. They grow self-conscious about their teeth, bite, or even the way that they look as they smile. With the help of an orthodontic expert like Dr. Patricia Panucci of Beach Braces in Manhattan Beach it's possible for you to gain the confidence back in your smile so that you can share more smiles with the world around you. Contact Dr. Patricia Panucci beach braces office today and see what life could be like living positively every day.
Beach Braces,  1730 Manhattan Beach Blvd. Suite B, Manhattan Beach, CA 90266
TEL: 310-379-0006 Fax: (310) 379-7051.
A Secret to Change the World: An Act of Random Kindness at a Time
Related Posts
http://www.beachbraces.org/wp-content/uploads/2014/03/BB-SQ10.png
600
800
Dr Patricia Panucci
http://www.beachbraces.org/wp-content/uploads/2016/01/logo-beach-braces-orthodontics.png
Dr Patricia Panucci
2014-04-10 13:50:33
2015-10-25 20:29:38
A Secret to Change the World: An Act of Random Kindness at a Time