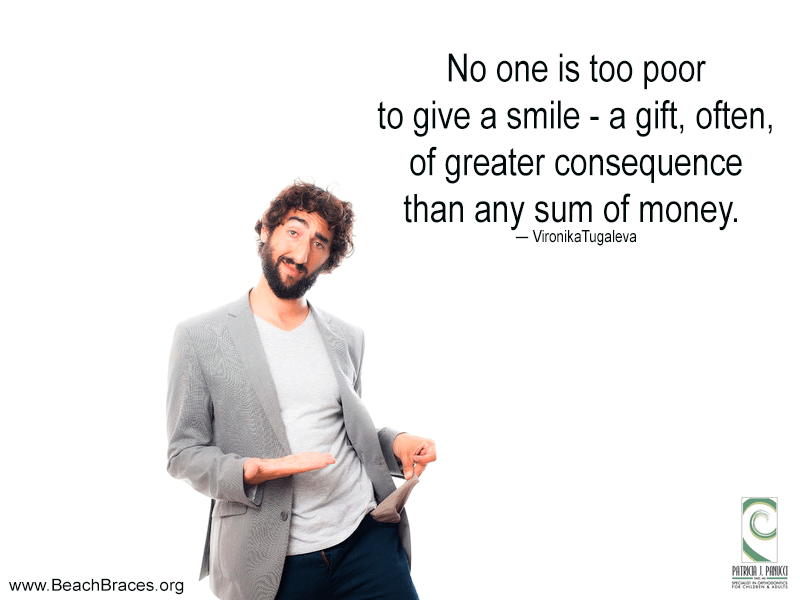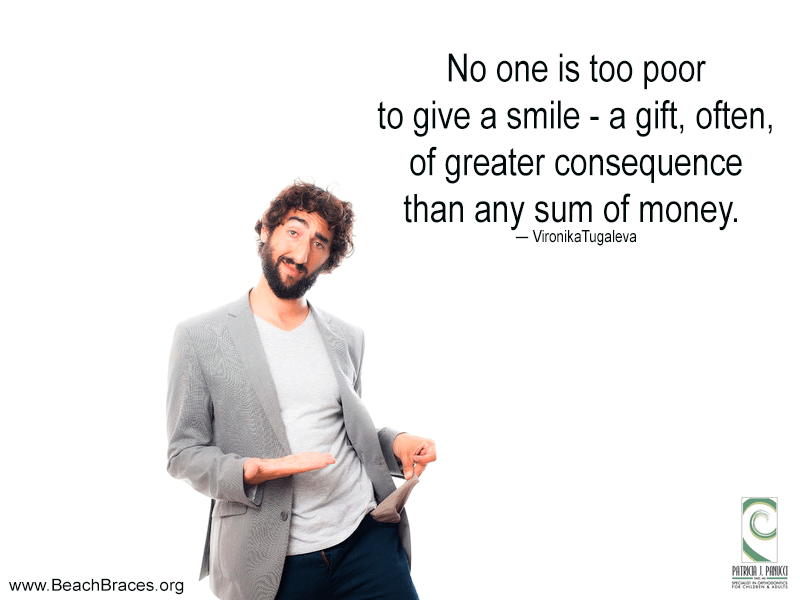 A smile is one of the best gifts that you can give to another human being. The best thing about a smile is that it doesn't cost you a penny to wrap it up or to present it. A heartfelt smile is one of those priceless gifts that people of all income classes can offer to friends, family members, loved ones and strangers who just look as if they need to see a bright smile. Smiles are priceless because:
They're Contagious
Smiling is contagious. No one can resist the temptation of a happy smile. Even people who are in pain will smile when they see someone else give them a smile. A dull room with one person smiling can quickly become a room full of beautiful smiles.
They Can Reverse a Frown
Happiness is to sadness as a smile is to a frown. It's difficult for one person to look at another person who is smiling and keep wearing a frown. Such a situation usually cannot last for more than 30 to 60 seconds.
They Emit Warmth
A pretty smile can emit enough warmth to make a lonely person feel loved or a sick person revived. Everyone should offer a nice smile to someone that they see is suffering.
Start Working on a Beautiful Smile Today!
You can take steps to improve your beautiful smile by seeing an orthodontist for alignment restoration. Invisalign and braces are just two options that can help you to achieve the smile that you want to show the world. Invisalign is a clear and plastic alternative to metal braces and brackets. Orthodontist Patricia J. Panucci and the specialists in the office love to create smiles that can affect the hearts of the people in the world. You can start the process of restoring your smile today by making an appointment today!
Beach Braces Orthodontics
220 N. Aviation Blvd
Suite A
Manhattan Beach
CA 90266
Phone: (310) 379-0006
Skype: Beachbraces
http://www.beachbraces.org/
No one is too poor to give a smile
Related Posts
Save
http://www.beachbraces.org/wp-content/uploads/2015/12/BB7-Dec2015.png
600
800
Dr Patricia Panucci
http://www.beachbraces.org/wp-content/uploads/2016/01/logo-beach-braces-orthodontics.png
Dr Patricia Panucci
2015-12-12 10:00:00
2016-08-18 09:24:42
No one is too poor to give a smile - a gift, often, of greater consequence than any sum of money ― VironikaTugaleva