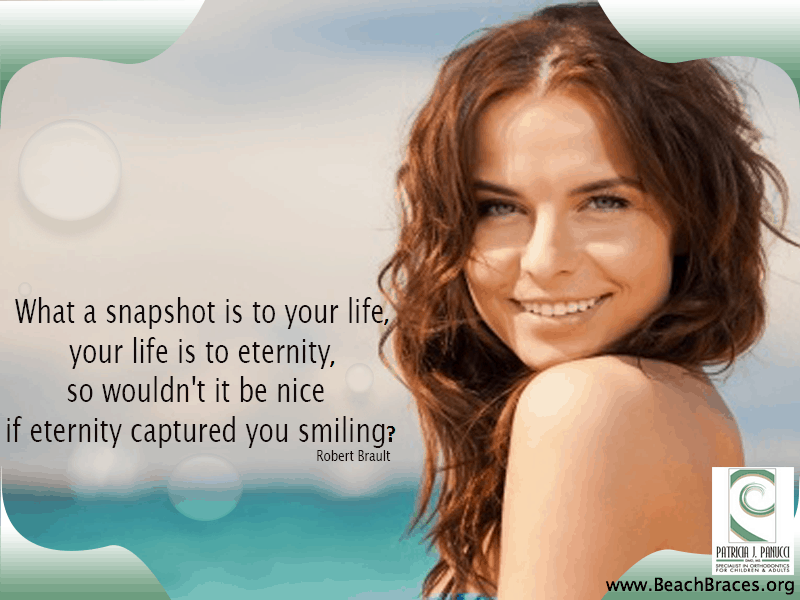 Smile Quote # 37: "What a Snapshot is to your Life, your Life is to Eternity, so wouldn't it be Nice if Eternity Captured you Smiling?" -Robert Brault
We face a wide array of challenges to our lives and one of the most positive steps that we can take to getting through them with ease is to make sure that we spend as much time smiling as possible. When you look back on your life most likely the first things that come to mind are some of the most positive memories that you have of the times that made you smile wide and with confidence. As you get older it's very important that you take time to create more of these powerful memories which can make you smile even long after the event has passed.
Creating these wonderful times with your friends and family can be a lot of fun and when you look back on these memories in snapshots and simply the memory can give you a warm and positive feeling which can help you through some of the most negative times you might experience. Not being able to share these positive moments fully with the people around you can make things difficult. If you are self-conscious of your smile or you have difficulty sharing a great big smile even when you are enjoying something spectacular, orthodontic help could be all that you need to change your future for the better.
If you want to change the snapshots of your life and change your memories to have you smiling with a perfect grin Dr. Patricia Panucci Beach Braces in Manhattan beach offers you a team of experts that can help you to unlock your ideal smile. This team offers multiple treatment options which can work for patients of all ages. If you require orthodontic help book a free consultation today.
Beach Braces, 1730 Manhattan Beach Blvd. Suite B, Manhattan Beach, CA 90266
TEL: 310-379-0006 Fax: (310) 379-7051.
Making an Impression for Eternity
Related Posts
http://www.beachbraces.org/wp-content/uploads/2014/05/BB-SQ9.png
600
800
Dr Patricia Panucci
http://www.beachbraces.org/wp-content/uploads/2016/01/logo-beach-braces-orthodontics.png
Dr Patricia Panucci
2014-06-05 12:41:21
2017-12-17 18:13:36
Making an Impression for Eternity