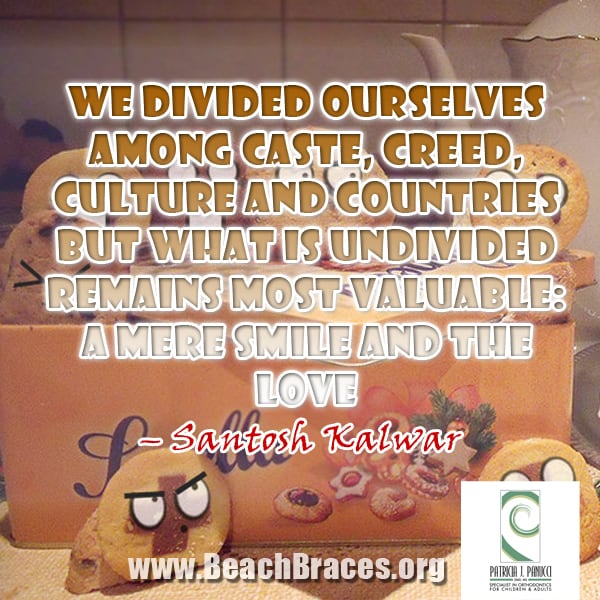 We divided ourselves among caste, creed, culture and countries but what is undivided remains most valuable: a mere smile and the love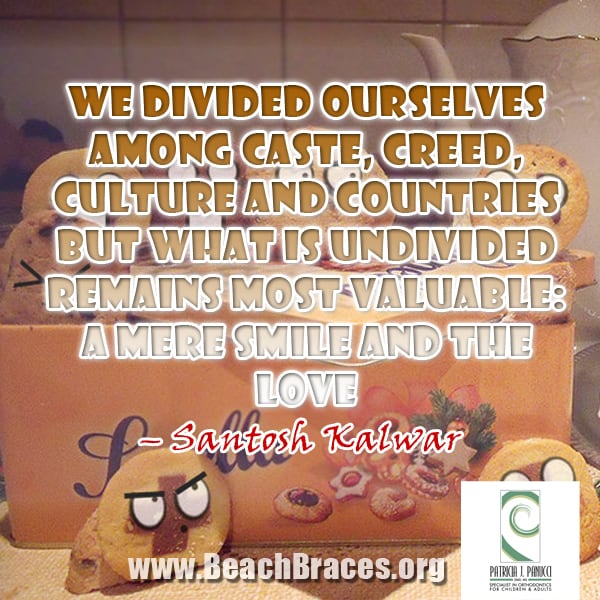 Beach Braces Smile Quote #26 "We divided ourselves among caste, creed, culture and countries but what is undivided remains most valuable: a mere smile and the love"
Love and happiness are amongst some of the greatest possessions that we can ever attain in our lives. Even though we may have differences when it comes to wealth, upbringing, culture or even possessions is really just happiness and love that makes life worse truly living.
Why not show off your happiness and spread a bit of love by living life from behind a beautiful smile. Even though all of us in the world have some remarkable differences, a smile can speak volumes and is something that shows universal happiness.
People from other cultures may be unable to communicate, people who are divided by class or wealth may also find it difficult to relate however a smile is something that is shared. Smiles are contagious and happiness is an amazing and powerful form of communication. Just as children growing up in the poorest parts of the world may be able to crack a smile and resonate that feeling of happiness through a TV screen to someone here, we can also share smiles with people that we meet in passing each and every day.
Sharing our smile and sharing our happiness with others every day makes our existence much more valuable and can make life much more fun for everyone around us. Even though we do have all of these fantastic differences at the base of what it means to live and love, comes showing our emotions. With a smile on we feel confident and we can instantly relate to the people around us. Smiles are undivided possessions that allow us to show our most valuable asset of happiness.
You can get a free consultation by clicking here! Are you on Facebook? Like us by clicking here.
Beach Braces 1730 Manhattan Beach Blvd. Suite B, Manhattan Beach, CA 90266 TEL: 310-379-0006 Fax: (310) 379-7051
Love and happiness are the greatest possessions
http://www.beachbraces.org/wp-content/uploads/2013/07/creed.jpg
600
600
Dr Patricia Panucci
http://www.beachbraces.org/wp-content/uploads/2016/01/logo-beach-braces-orthodontics.png
Dr Patricia Panucci
2013-07-30 19:39:00
2013-09-26 00:30:24
Love and happiness are the greatest possessions