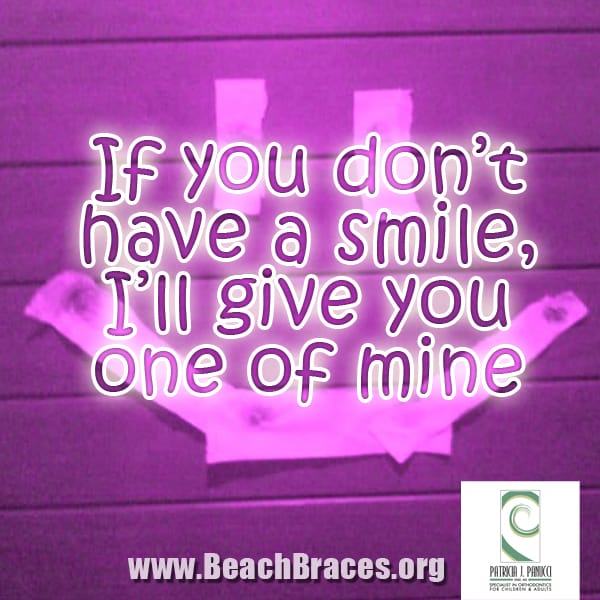 "If you don't have a smile, I'll give you one of mine"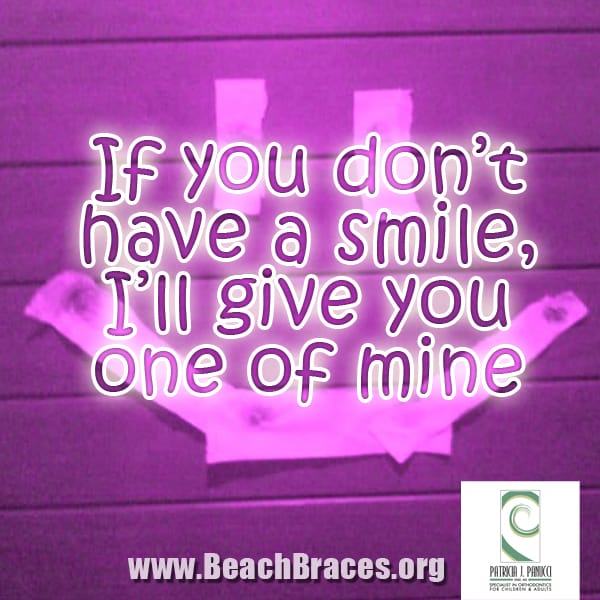 Beach Braces Smile Quote #21 "If you don't have a smile, I'll give you one of mine"
As we may see people in passing having a bad day or not showing off their smile, we can simply brighten up their day by sharing a smile with these people each and every day. You may find one of your coworkers down in the dumps, your parents, your friends or even just strangers you see on the street. The next time that you're in this predicament, give one of these people your best and most confident smile.
You will be amazed as most of the time these people will smile back at you and usually carry on this smile for some time after you pass them by or go into another room.
A smile is something that not only resonates with other people but will keep them going and give them hope. A smile is something that is contagious and can really travel across people. When somebody is happy they can really make other people happy and by showing off your best smile out in public you can work to brighten up hundreds of people's days with just one smile and one street.
Regardless of what somebody may be thinking about to give them the negative thoughts, you can very quickly snap them out of it by smiling and maybe even starting up a quick conversation with people that you might pass on the street.
For just those few moments when you are communicating with each other those persons' concerns will completely escape them and only be replaced with positive energy. Smiles can be very important tools to helping other people feel just as positive as you do with a smile on.
There are a few reasons people don't like to smile apart from being in a bad mood, unfortunately many people lack confidence when it comes to their teeth. Dr Panucci has been creating beautiful smiles across California for years, so why not contact us for a free consultation?
Beach Braces 1730
Manhattan Beach
Blvd. Suite B, Manhattan Beach, CA 90266 TEL: 310-379-0006 Fax: (310) 379-7051
Looking for a Smile ? Here you go!
Related Posts
http://www.beachbraces.org/wp-content/uploads/2013/06/give.jpg
600
600
Dr Patricia Panucci
http://www.beachbraces.org/wp-content/uploads/2016/01/logo-beach-braces-orthodontics.png
Dr Patricia Panucci
2013-06-27 01:02:51
2015-05-08 00:18:02
Looking for a Smile ? Here you go!