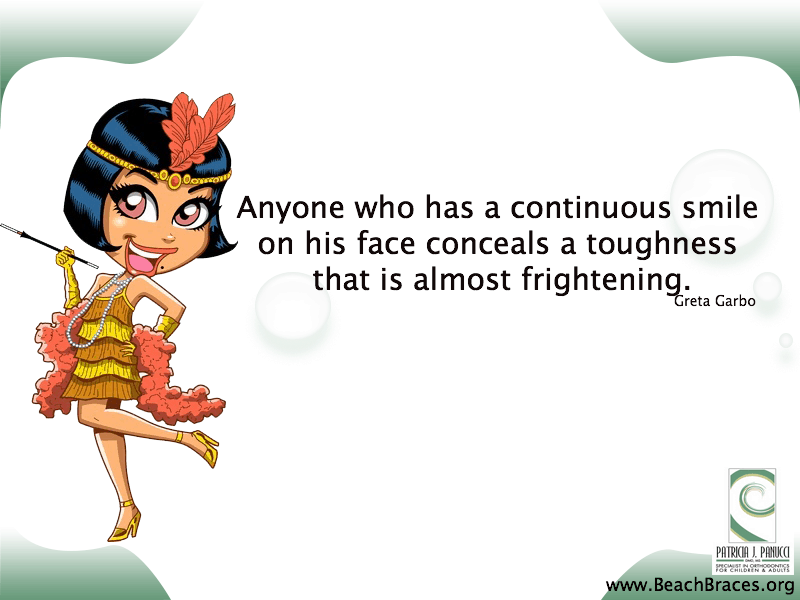 Smile Quote # 31: "Anyone Who has a Continuous Smile on his Face Conceals a Toughness that's Almost Frightening" – Greta Garbo
Getting through tough situations sometimes requires much more than keeping a tough exterior throughout. When we smile we can take on just about any difficult situation. Keeping positive on the inside and the outside is how we can deal with serious issues we face every day. Just as the quote would suggest someone who constantly remains positive could be one of the absolute toughest people you know.
They are always ready to combat any negativity in their lives and meet it head on with positivity. When we smile it only encourages positivity in ourselves and in the people around us. A smile usually brings about even more smiles which are returned to us. Even something as simple as that action can make us feel much better when we are experiencing difficulty in our lives. For some individuals however it can be difficult to constantly share a smile with the people around them, and this is usually because they don't have confidence in their smile. Luckily it is possible to help you bring back the confidence in your smile so that you can have the tough exterior that you need to increase positivity in your life.
With the specialists available in Manhattan Beach from Dr. Patricia Panucci's Beach Braces, you can receive a wide array of treatments that can help you down the path to creating your ideal smile. This team has helped hundreds of people in the Manhattan Beach area to find their smile and have the confidence to smile again. If you have lost confidence in your smile and you need the help to bring it out again work with the orthodontic experts at Dr. Patricia Panucci Beach Braces. We are accepting appointments for free consultations today.
Beach Braces 1730 Manhattan Beach Blvd. Suite B, Manhattan Beach, CA 90266
TEL: 310-379-0006 Fax: (310) 379-7051.
Your Life is What you Make it
Related Posts
http://www.beachbraces.org/wp-content/uploads/2014/03/BB-SQ1.png
600
800
Dr Patricia Panucci
http://www.beachbraces.org/wp-content/uploads/2016/01/logo-beach-braces-orthodontics.png
Dr Patricia Panucci
2014-04-24 13:14:11
2015-10-17 22:00:55
Your Life is What you Make it