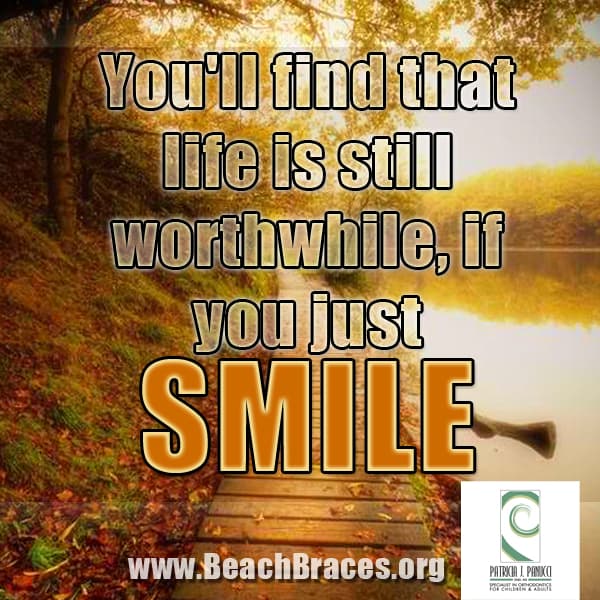 "You'll find that life is still worthwhile, if you just SMILE"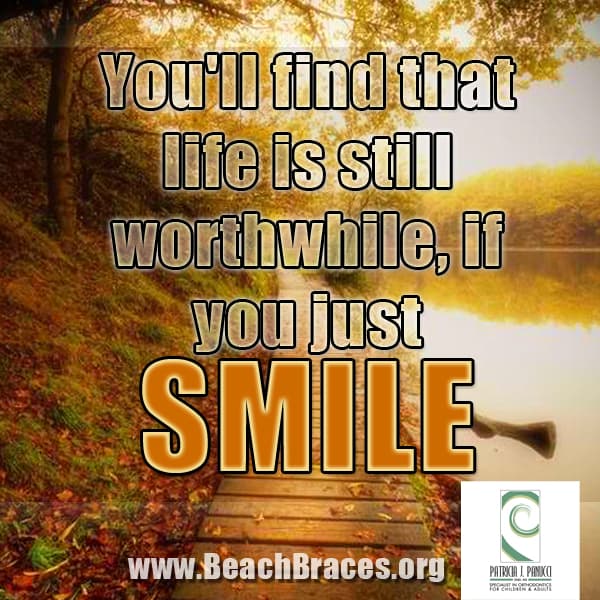 Beach Braces Smile Quote #18 "You'll find that life is still worthwhile, if you just SMILE"
To go through life without smiling would have to feel like something is missing.  You might check to make sure you are wearing your shoes, or put on your tie, or grabbed your keys and phone.  After making sure that you have everything that you need for your day, something still seems to be missing.  In order to be fully dressed, you need to put a smile on each morning.
There are so many things in life to be appreciative of.  What better way to show your happiness and excitement than through a smile?  Smiles are the universal way of showing that you are happy or have a positive outlook on something.  When we start to smile, others cannot help but smile themselves.  Why not challenge yourself for the next couple of days to wake up and before you leave the house, put a smile on your face?  You might notice that people will begin to ask you "Why you are smiling?", or "What are you so happy for?"
What greater response than telling them that today is just a good day and you are happy to be smiling.  I guarantee if you start this trend, people will begin to be more positive and upbeat when they are around you because they know that you are the person they can come to share a smile with.  No one likes a grouch, so why not put a smile on and share it with everyone?
Hey are you following us on Twitter? You can be the first to hear about all the latest news.
Beach Braces 1730 Manhattan Beach Blvd. Suite B, Manhattan Beach, CA 90266  TEL: 310-379-0006 Fax: (310) 379-7051
Keys, Phone, Bag, Lunch, Smile CHECK! 
Related Posts
http://www.beachbraces.org/wp-content/uploads/2013/06/worthwhile.jpg
600
600
Dr Patricia Panucci
http://www.beachbraces.org/wp-content/uploads/2016/01/logo-beach-braces-orthodontics.png
Dr Patricia Panucci
2013-06-05 21:39:27
2015-05-08 07:38:20
Keys, Phone, Bag, Lunch, Smile CHECK!