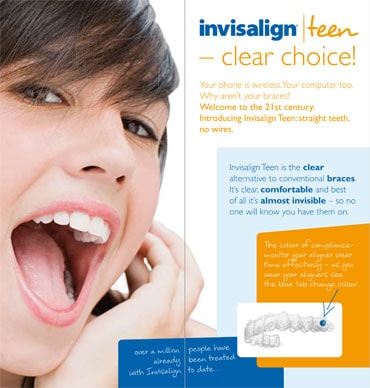 Want to straighten your teeth without your friends noticing it? Then wearing invisible braces might just answer your every need.
Invisible braces, also known as Invisalign, allow you to correct different teeth misalignment problems ranging from several months to few years depending on individual case. Invisalign is a method for straightening your teeth using clear aligners developed by Align Technology. Countless individuals have already tried and benefitted on this kind of method more than what they expected for. Aside from perfectly aligning teeth during the course of the patient's treatment, it also offers a lot of advantages compared to traditional fixed metal braces.
First, as these aligners are invisible, there would be no impact on the patients' self-esteem while under treatment. Patients' confidence are even boosted knowing that in few months or years, they can finally have their desired smiles without having to suffer during the treatment process.
Second, since Invisalign consist of removable teeth aligners, it will be easier for the patient to remove the appliances if necessary. Among the instances wherein the removable aligners have advantage are eating, brushing, flossing, engaging in extreme sports, playing musical instruments, and even public speaking. Since patients are required to wear the aligners for at least 22 hours a day, keeping track of time is necessary as well as discipline.
Lastly, Invisalign is more comfortable to wear than the traditional metal braces as clear aligners are made of special plastic that won't irritate gums and tongue. Since there are no tie wires and other metal parts, swelling is minimized hence increasing the comfort while decreasing the pain felt by the patients. If you can have the desired results without going through a lot of adjustments, discomforts, and pain, then why not grab the opportunity to do so?
Being a breakthrough in the field of orthodontics, Invisalign was able to change how patients view orthodontic treatments and how they perceive the experiences of others who have gone through the treatment. After all, everyone loves to have a perfect smile but not all of them are willing to sacrifice their current smiles for a better one in the future. Hence, invisible braces (Invisalign) are the best option there is.
Contact us for a free consultation and get more information about orthodontic treatments.
Dr Panucci
– Beach Braces 1730 Manhattan Beach Blvd. Suite B, Manhattan Beach, CA 90266 TEL: 310-379-0006 Fax: (310) 379-7051.
Invisible Braces
http://www.beachbraces.org/wp-content/uploads/2013/07/Invisalign_Teen_DL_consumer_brochure-2.jpg
388
370
Dr Patricia Panucci
http://www.beachbraces.org/wp-content/uploads/2016/01/logo-beach-braces-orthodontics.png
Dr Patricia Panucci
2013-08-27 09:47:53
2014-02-02 03:17:43
Invisible Braces