brittanysoup
via
Compfight
cc
">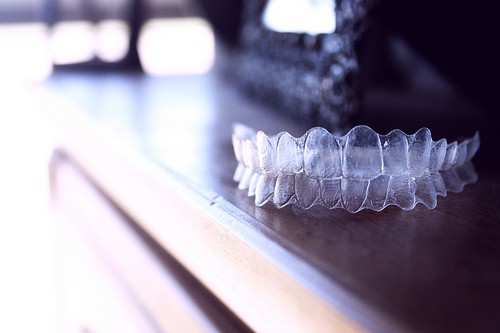 Is Invisalign worth the Resources?
If you have crooked or misaligned teeth, but you want to avoid the unsightly process of getting braces, Invisalign is a wonderful treatment option. Not only will this process give you a beautiful looking image that will boost your self-esteem and make you smile more, but it will also give you more healthy oral health for years to come. When it comes to finding an Invisalign Manhattan Beach orthodontist, here is the information you should be considering to know that getting this process completed will work for you.
How Do The Aligners Work?
During the time that you are getting this treatment, you will get multiple different aligners from your Invisalign preferred provider. Little by little, the aligners will work to straighten your teeth and shift them into the correct position. Once you have completed each session, you can then visit your orthodontist to get the new set placed, so that your teeth will continue the transitional process. Invisalign uses a patented thermoplastic design that will move a patient's teeth by force into an appropriate position. Because the treatment will only move certain teeth at a time, your orthodontist will use their expertise to ensure determine how to correctly use the aligners for you.
How Long Does The Process Take?
Most traditional braces will take multiple years, if not more, to completely straighten your teeth. However, getting Invisalign from a Manhattan Beach orthodontist will take much less time. As mentioned above, you will have to go back to your orthodontist a few times throughout the process, however it will still be much less of a time commitment than typical braces treatments. Your orthodontist will work with you throughout the process to inform you of how long you should expect for the process to be for you.
Why Should I Consider This Treatment Over Traditional Braces?
We live in a world where photography and social media puts our entire lives on display almost every second of the day. For those that have unsightly teeth, getting treatment to straighten them out can do wonders for self-esteem and confidence. However, with braces, those feelings are often diminished, as people are concerned with others looking at the metal affixed to their teeth. However, with your treatment from an Invisalign preferred provider, you can now start working towards beautiful teeth, without the downtime that comes from braces. Furthermore, braces are a type of treatment that can often make normal activities more difficult, such as eating food and making sure that you don't get any remains stuck in your teeth. However, Invisalign can be removed, cleaned and then quickly placed back in your teeth, to ensure that you are continually working on treatment, without the concerns that come with traditional braces.
If you are looking for beautiful teeth through an Invisalign Manhattan Beach orthodontist, you can rely on Patricia Panucci, DMD. She specializes in children orthodontic treatments for children and adults, so she can help people of all ages get the smile they've always dreamed of. Consider contacting your Invisalign preferred provider for getting your treatment started today. It won't take long before you realize it can work for you!
Beach Braces, 1730 Manhattan Beach Blvd. Suite B, Manhattan Beach, CA 90266
TEL: 310-379-0006 Fax: (310) 379-7051.
Does Invisalign Work?
Related Posts
http://www.beachbraces.org/wp-content/uploads/2014/06/5003041017_4fe3f642dd.jpg
333
500
Dr Patricia Panucci
http://www.beachbraces.org/wp-content/uploads/2016/01/logo-beach-braces-orthodontics.png
Dr Patricia Panucci
2014-06-17 12:19:20
2015-02-24 19:16:01
Does Invisalign work?