hectorlandaeta
via
Compfight
cc
">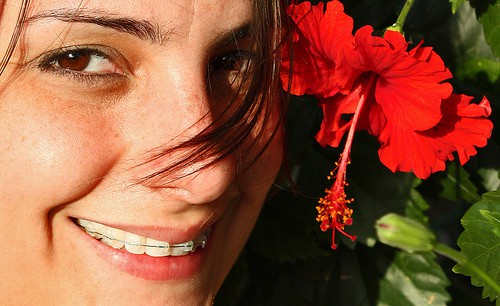 What are these "Invisible Braces"?
You've probably heard about "invisible braces" that straighten teeth in less time than traditional metal braces. If you've thought about invisible braces for yourself or for your teenage son or daughter, you may be wondering how something so simple can straighten teeth as well as braces. While not able to do everything braces can, like fixing a bad overbite, the invisible braces can move teeth horizontally into proper position for a beautiful smile. Actually, they are not "invisible braces" at all, which is why they have many advantages.
The comfortable, clear and nearly invisible trays, called aligners, work by using controlled and timed force to gradually move teeth into position. The movement in each patient's case is mapped out by the orthodontist so that each set of aligners move a few teeth at a time. Over the course of the entire treatment, the patient receives a new set of aligners about every two weeks. For most adults, the entire course of treatment is about a year. For teenagers, it's usually a little longer.
Advantages Over Braces:
Practically invisible
Comfortable
Removable
Easy eating and brushing without the aligners on
Less orthodontist office visits throughout treatment
Unlike braces, which require a lengthy adjustment period and repeated adjustments by the orthodontist, the aligners are comfortable, and you simply get a new set from the orthodontist about every two weeks through your treatment.
Invisible aligners are not suitable for children, but teenagers can get a special type.
Invisalign Teen
Suitable for teenagers who have lost all of their baby teeth
Eliminates the embarrassment of wearing braces
Early correction of crooked teeth prevents more problems later
Cost Compared to Braces
Metal braces are generally the least expensive method of orthodontic treatment, but the cost of invisible aligners is often less than people expect. Dental insurance may pay for at least part of the cost. When you consider the advantages the aligners have over braces, the slightly higher cost may be well worth it.
If you or your teenage son or daughter has crooked teeth, crowding, spacing or minor bite problems, and you're interested in learning more about possible orthodontic solutions, you can contact our Invisalign preferred provider. Our orthodontist can meet with you for a consultation to discuss aligners and see if they would work for your or your teenager. You can also discuss the cost of treatment. Invisalign in Manhattan Beach may more affordable than you think.
You can also visit Beach Braces website to read more about different orthodontic treatments and the importance of correcting malocclusion (crooked teeth) for health reasons. Information for parents and teens is available at the Invisalign Teen page.
Don't wait. If you want a beautiful smile and healthier teeth, now is the time to see if invisible aligners may be right for you. If you feel convinces and ready for treatment or you have further queries in your mind, feel free to contact Beach Braces for expert help.
Beach Braces, 1730 Manhattan Beach Blvd. Suite B, Manhattan Beach, CA 90266
TEL: 310-379-0006 Fax: (310) 379-7051.
How Does Invisalign Move Teeth?
Related Posts
http://www.beachbraces.org/wp-content/uploads/2014/07/3351696017_0808c9ec50.jpg
306
500
Dr Patricia Panucci
http://www.beachbraces.org/wp-content/uploads/2016/01/logo-beach-braces-orthodontics.png
Dr Patricia Panucci
2014-07-01 11:50:42
2015-01-29 01:22:37
How Does Invisalign Move Teeth?