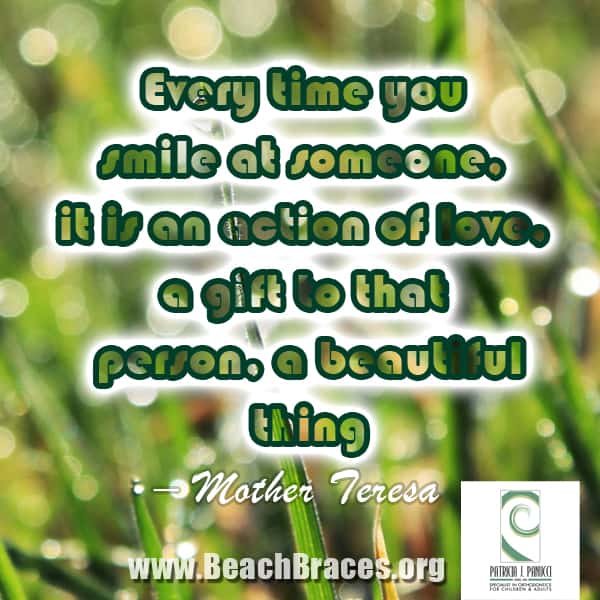 "Every time you smile at someone, it is an action of love, a gift to that person, a beautiful thing –Mother Theresa."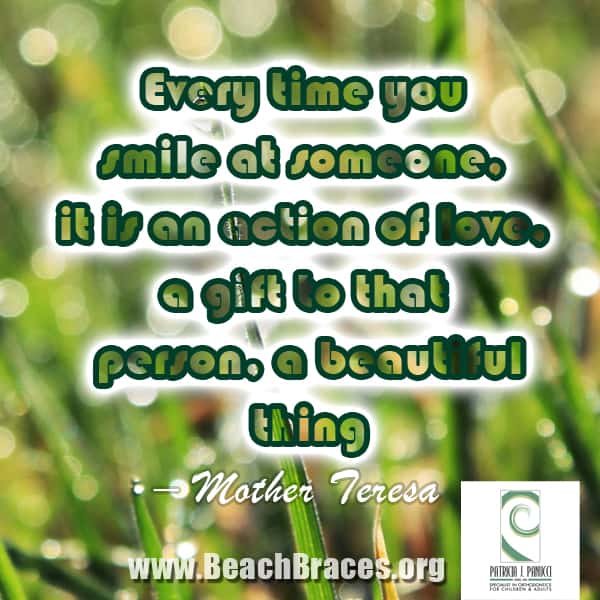 Beach Braces Smile Quote #9 "Every time you smile at someone, it is an action of love, a gift to that person, a beautiful thing –Mother Theresa."
It is said that a smile counters negative thoughts and feelings.  Try to think of something negative but put a really big smile on your face.  Are you able to still think negative thoughts? Surprisingly people are finding that the more they smile, the happier they seem to be.
Why not share that smile with someone else?  They will be caught up in your smile and they will begin to smile, getting rid of negativity one smile at a time.  Beach Braces strives to give you the smile that you have always wanted so you will have the chance to share your smile with others.  Crooked teeth can create stress on other teeth and jaws.
This type of misalignment can affect your bite and overall your beautiful smile.   There are different options available for orthodontic correction.  Invisalign is a clear method that straightens your teeth without the use of wires, brackets, or rubber bands. Many have preferred this method because it is clear and straightens their teeth without the bulky metal.  Invisalign is customized to fit your teeth, providing maximum comfort, are clear for confidence, and are super effective.  Another added benefit is that they are clear!  About every two weeks you will get another aligner if you choose this option.
Each week your teeth will gradually be getting better.  You can remove the aligners while you eat or even when you floss and brush your teeth.  Invisalign not only give you a better smile, but help you on your way to becoming a better you.  Get in touch with Beach Braces today for a consultation!
 Beach Braces 1730 Manhattan Beach Blvd. Suite B, Manhattan Beach, CA 90266 TEL: 310-379-0006 Fax: (310) 379-7051
Have You Given a Gift Out Today?
Related Posts
http://www.beachbraces.org/wp-content/uploads/2013/03/action.jpg
600
600
Dr Patricia Panucci
http://www.beachbraces.org/wp-content/uploads/2016/01/logo-beach-braces-orthodontics.png
Dr Patricia Panucci
2013-03-31 22:03:45
2015-05-08 08:18:35
Have You Given a Gift Out Today?