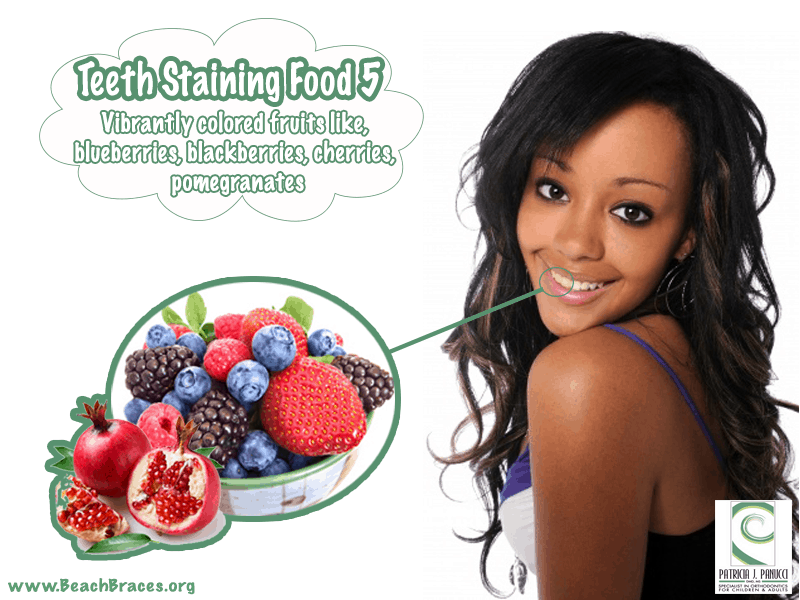 Teeth Staining Food # 5: Vibrantly Colored Fruits like, Blueberries, Blackberries, Cherries, Pomegranates.
When summer comes, you just can't wait to dive into a container of fresh berries. You might head to one of the farmers markets or go right to the source and pick the berries yourself. Fruits with a vibrant color, including blackberries, cherries, blueberries and pomegranates are refreshing and a healthier alternative to a bag of chips or a candy bar. If you eat a large amount of those fruits though, you'll notice that the color seems to remain behind on your teeth.
Teeth Whitening:
Teeth whitening, also called teeth bleaching, is a dental procedure that removes stains caused by coffee, tea, soda, fruits and other foods. Over the counter products let you remove stains at home, and include toothpaste, gels and whitening strips. Those products often contain a small amount of peroxide, but using peroxide on your teeth can eventually break down the enamel. In-office procedures are generally safer and more effective. Many offices use light therapy, but other offices use bleaching agents that can increase the whiteness of your teeth in several sessions.
Other Dental Problems? Contact an Orthodontist:
While dentists can complete a number of procedures, orthodontists can do even more. For affordable dental braces you might consider Dr. Patricia J. Panucci. As a preferred Invisalign provider locals know that she can straighten their teeth without using heavy, bulky or uncomfortable metal braces. Kids today deal with peer pressure and bullies at school and beyond, and you want your kids to feel as comfortable as possible throughout their education. Invisible braces will give your kids that straight and perfect smile that they want without other even knowing they wear braces. To make an appointment for teeth whitening you can get in touch with us at Beach Braces.
Beach Braces, 1730 Manhattan Beach Blvd. Suite B, Manhattan Beach, CA 90266
TEL: 310-379-0006 Fax: (310) 379-7051.
Get White Teeth without Giving up Your Favorite Berries
Related Posts
http://www.beachbraces.org/wp-content/uploads/2014/07/TSF-51.png
600
800
Dr Patricia Panucci
http://www.beachbraces.org/wp-content/uploads/2016/01/logo-beach-braces-orthodontics.png
Dr Patricia Panucci
2014-07-17 16:07:23
2017-02-20 19:50:46
Get White Teeth without Giving up Your Favorite Berries