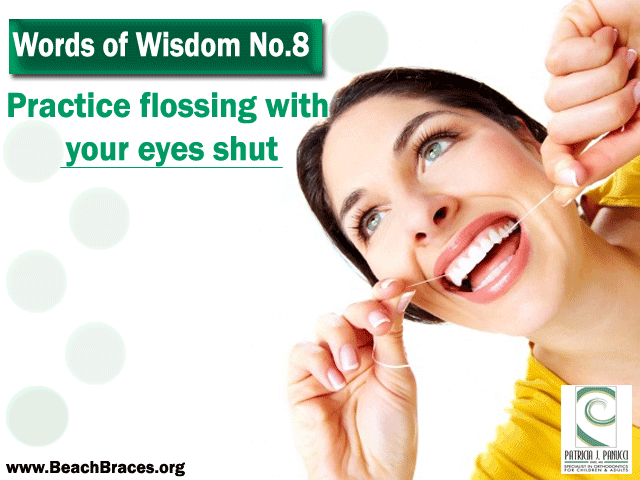 Words of Wisdom No.8: "Practice Flossing with Your Eyes Shut"
Flossing teeth is necessary after eating. It helps you remove stuck food in between your teeth which is very uncomfortable if not removed. Make sure to carry around floss in your bag, your car, your desk, or even in your pocket. This comes in very handy especially if you don't have the time to brush your teeth after eating lunch. Aside from floss, you can also bring mouthwash or a sugar-free mint in order to make sure you restore the freshness of your breath.
As flossing is a good way to remove stuck food particles in your mouth, not being able to do so because there are no mirrors is also a common hindrance. If your office doesn't have mirrors in the bathroom or anywhere, then don't just accept the fact that you can't floss. There are actually a lot of things you can do and flossing without a mirror can be one of them.
You need to practice flossing with your eyes shut. You need to memorize your mouth, your teeth, gums, and everything else. If you have the skill of flossing even with your eyes shut, then you're not going to need any mirror while doing it anywhere. You can freely floss in your car, in the pantry, or barely anywhere. This skill really comes in handy if you find yourself surrounded with people all the time or if you find it hard to look for mirrors in your workplace.
Are you on Google Plus ? Circle doctor Panucci  by clicking here, doing so you will be the first one to know about all the latest dental tips, and orthodontic treatments available.
Dr Panucci – Beach Braces 1730 Manhattan Beach Blvd. Suite B, Manhattan Beach, CA 90266
TEL: 310-379-0006 Fax: (310) 379-7051.
Flossing Teeth With Your Eyes Shut
Related Posts
http://www.beachbraces.org/wp-content/uploads/2013/10/WW8-BB.png
480
640
Dr Patricia Panucci
http://www.beachbraces.org/wp-content/uploads/2016/01/logo-beach-braces-orthodontics.png
Dr Patricia Panucci
2014-01-09 19:00:27
2015-01-30 18:24:57
Flossing Teeth With Your Eyes Shut