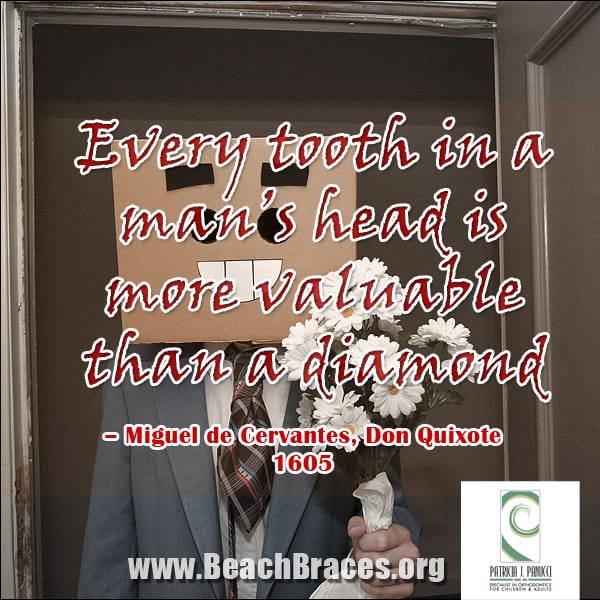 "Every tooth in a man's head is more valuable than a diamond"

Beach Braces Smile Quote #19 "Every tooth in a man's head is more valuable than a diamond"
Many people overlook the care of their teeth as well as truly valuing their smile. A smile is an extremely expressive tool that we all use each and every day, caring for it is imperative to maintaining our confidence, our image and how we depict our happiness to the world. Just as this quote would suggest it's very important for people to care for their teeth just as they would the most valuable diamond in a jewellery collection.
A smile is what makes us approachable and what we use to communicate happiness to other people. If people are unable to value their teeth they may not be confident in their smile and may also have difficulty smiling without any effort. It's important that we be able to smile with other people and share a smile as this can brighten somebody's day. Having the confidence to be able to perform a big open tooth ear to ear grin is what really helps us to connect as human beings. A guarded smile is nowhere near the same as a genuine confident one. Are you happy with your smile?
You never know the type of people that you might meet or who you might impress by showing off your perfect smile. This is why keeping your teeth healthy and regularly caring for each and every tooth in your head, as the quote would suggest is so very important to maintaining your appearance and valuing your happiness. Smiles and teeth truly can be more valuable than any diamond in existence.
If you are considering improving your smile, click here to contact us for a free consultation.
Are you following us on Twitter? We promise to follow back 🙂
Beach Braces
1730 Manhattan Beach Blvd. Suite B, Manhattan Beach, CA 90266 TEL: 310-379-0006 Fax: (310) 379-7051
Diamonds Are Forever
Related Posts
http://www.beachbraces.org/wp-content/uploads/2013/06/tooth2.jpg
600
600
Dr Patricia Panucci
http://www.beachbraces.org/wp-content/uploads/2016/01/logo-beach-braces-orthodontics.png
Dr Patricia Panucci
2013-06-12 21:40:38
2015-05-08 07:37:11
Diamonds Are Forever