Invisible Aligners
Whether you are in school, a professional in the public eye or active in sports, the SIMPLI5 invisible aligners system can fit your busy lifestyle.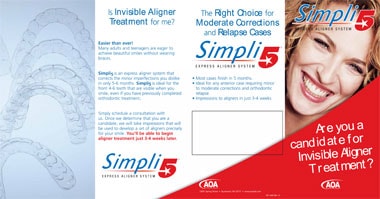 The SIMPLI5 invisible aligners system is ideal for:
Patients who have a very minor amount of alignment needs of the front teeth, and who have a perfect bite in the back of the teeth.
Patients who only want or need alignment in one arch (upper or lower).
Patients who want a less expensive solution to other types of aligner treatment.
Patients who don't want braces or other types of visible appliances.
If Dr. Panucci determines that you are a candidate for the SIMPLI5 invisible aligners system, an impression of your teeth will be taken and sent to a special laboratory where a series of active appliances will be custom-made for you. 3 to 6 aligners will be fabricated depending on your particular dental alignment needs. Each of the near invisible aligners is made of light-weight, clear plastic material in the shape of your arches. Subtle corrections are incorporated in each appliance progressively to direct your front teeth to a more desirable position. You will wear each appliance approximately 4-8 weeks. The nearly invisible appliances are so easy to wear and talk with; few people will even know you have them. In just a few months, you will be enjoying your beautiful smile.
Are You a Candidate for SIMPLI5 Invisible Aligners?
Contact Us today to schedule your free orthodontic consultation with Dr. Panucci to see if you are a candidate for SIMPLI5 invisible aligners.
Patricia J. Panucci DmD, MS - Specialist in Orthodontics For Children and Adults in Southern California
Beach Braces 1730 Manhattan Beach Blvd. Suite B. Manhattan Beach, CA 90266
Phone: (310) 379-0006 • Fax: (310) 379-7051
Invisible Aligners