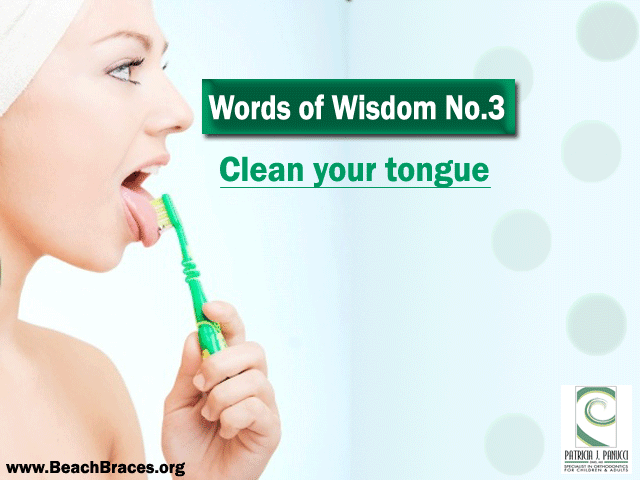 Clean Your Tongue

Words of Wisdom No.3: "Clean Your Tongue"
Only few have a good knowledge when it comes to hygiene. Most people do not know the importance of overall cleanliness hence their efforts are rendered useless.
Cleaning your tongue is part of your overall oral health. Not cleaning your tongue will make brushing three times a day useless as the bacteria from the tongue will still spread all throughout your mouth. So how do you clean your tongue? Simple!
You can use a tongue scraper every morning in order to remove tongue plaque. This can also freshen up your breath so you could greet every people you meet all throughout the day with confidence. If you don't have a tongue scraper, you can use your toothbrush to gently brush your tongue. Although you can clean your tongue pretty well with a toothbrush, experts still recommend using a tongue scraper as it does the job more efficiently than toothbrushes.
Removing the plaque in your tongue prevents bacteria build up which eventually causes bad breath. No matter how much you brush your teeth, if you don't include your tongue then you'll still have that odor caused by bacteria.
Always remember, skipping your tongue won't do you any good. You have to clean your mouth as a whole, including the ceiling of your mouth in which is often skipped by kids and adults. Lastly, don't forget to also include the upper and lower inner sides of your teeth when brushing.
Visit our blog to read more about cleaning teeth and taking care of your oral health. You can also get a free consultation by clicking here.
Dr Panucci – Beach Braces 1730 Manhattan Beach Blvd. Suite B, Manhattan Beach, CA 90266 TEL: 310-379-0006 Fax: (310) 379-7051.
Clean Your Tongue Correctly
http://www.beachbraces.org/wp-content/uploads/2013/11/WW3-BB.png
480
640
Dr Patricia Panucci
http://www.beachbraces.org/wp-content/uploads/2016/01/logo-beach-braces-orthodontics.png
Dr Patricia Panucci
2013-12-05 09:00:12
2013-10-23 01:55:30
Clean Your Tongue Correctly