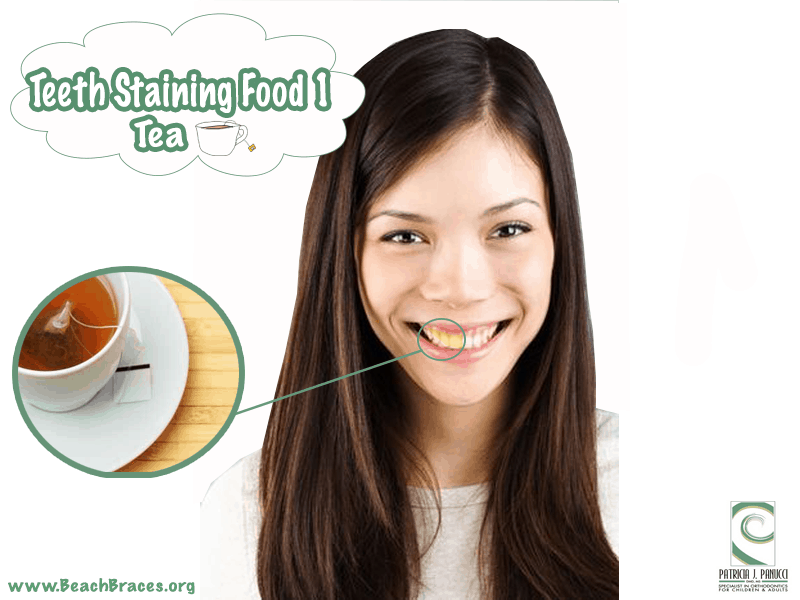 Teeth Staining Food #1: Tea
The life of a parent is all but calm. Just having a child is a full-time job, so whether you have one kid to teach and love or another full time job on top of your parenting, there is almost no time to stop and be choosy about many things, including what goes into your mouth. So, many go with some of the most popular drinks: a soda, a coffee, or a healthier choice, tea.
Tea is a daily drink for many, for good reasons, noted by Web MD
 Black tea helps your lungs and can even reduce the risk of stroke
 Green teas have been know to help lower cholesterol, chance of stroke, and even the growth of some cancers.
 Teas like chamomile can have a calming affect.
 Most other types of tea have what gets many of us through the day – caffeine.
So how could this be bad? Look in the mirror.
 Are your pearly whites as pearly and white as they ones were?
 Here's the deal, tea can stain teeth even more aggressively than coffee.
Here's the good news: There is a fix!
Beach Braces, an orthodontic specialist in Manhattan Beach is your way back to a perfect smile.
 Many of you will need to find an orthodontist for your child in the near future if you haven't had to already.
 While they get their smile in top shape with our specialists, you can come back and get your teeth whitened.
 Teeth Whitening at Beach Braces in Manhattan Beach can help bring a new whiteness and shine to your smile.
So come on over to Beach Braces; because everyone should love to smile!
Beach Braces, 1730 Manhattan Beach Blvd. Suite B, Manhattan Beach, CA 90266
TEL: 310-379-0006 Fax: (310) 379-7051.
Tea: Healthy for the Body, Disastrous for Teeth
Related Posts
http://www.beachbraces.org/wp-content/uploads/2014/06/TSF-1.png
600
800
Dr Patricia Panucci
http://www.beachbraces.org/wp-content/uploads/2016/01/logo-beach-braces-orthodontics.png
Dr Patricia Panucci
2014-06-19 13:00:13
2015-08-11 07:11:35
Tea: Healthy for the Body, Disastrous for Teeth