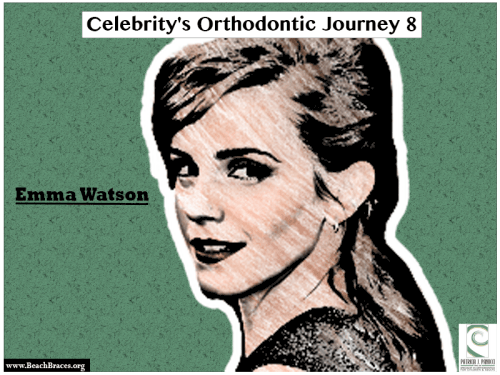 Celebrity's Orthodontic Journey # 8: Emma Watson
We've watched Emma Watson grow up on the big screen. Fans of the Harry Potter series fell in love with her from the first moment she took the role of Hermione Granger. As a beautiful woman today, she still has a major following. She simply has to show everyone that glowing smile and she makes even more fans. While you may be charmed by her beauty today, you might be surprised to learn her smile has been through a transformation. In her younger years, Emma has some slight issues with spacing and the alignment of her teeth. Thanks to orthodontic correction, her teeth truly shine today. If you want a smile like Emma's but have orthodontic concerns, it's time to find out what an orthodontic specialist in Manhattan Beach can do for you.
The Best Way to Get Emma's Smile
For Emma, the journey to a beautiful smile began in her early teens with traditional braces. While many celebrities opt for invisible forms of treatment, Emma Watson had metal wires and brackets. Over the course of a couple of years, slight adjustments were made to her teeth until her treatment was complete. Looking at her smile today, there is no doubt that orthodontics was worth the time and money for the young actress. Find out how to get a smile like Emma's by contacting an orthodontist.
Visit an Orthodontic Specialist Today
To learn more about braces for teen Los Angeles, explore www.beachbraces.org. Make your first appointment for a consultation with Dr. Patricia Panucci. She will be able to evaluate your condition, pinpoint areas of concern, and discuss your options, including colored braces. Orthodontic work can truly transform your smile, but it is up to you. Contact Dr. Panucci's office and begin the journey to a smile that is something to talk about.
Beach Braces, 1730 Manhattan Beach Blvd. Suite B, Manhattan Beach, CA 90266
TEL: 310-379-0006 Fax: (310) 379-7051.
Invisible Treatment for a Glowing Smile
Related Articles
http://www.beachbraces.org/wp-content/uploads/2014/10/Celebritys-Ortho-Journey-BB8-e1410434848779.png
375
500
Dr Patricia Panucci
http://www.beachbraces.org/wp-content/uploads/2016/01/logo-beach-braces-orthodontics.png
Dr Patricia Panucci
2014-10-21 13:30:06
2015-01-28 23:18:06
Invisible Treatment for a Glowing Smile