Is it Possible to Over Brush while you have Braces?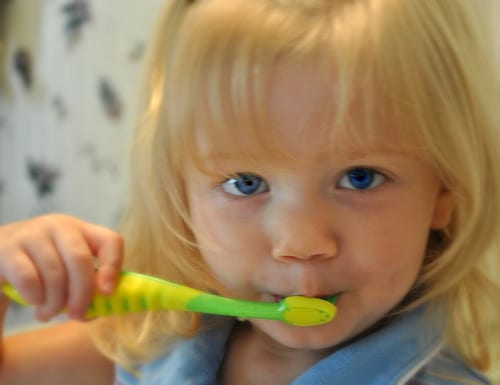 Maintaining good dental hygiene is important for children and adults. For some people, problems arise when their teeth are not properly aligned. When this happens, it may become necessary to visit an orthodontist and be fitted with braces. As anyone who has ever worn braces can attest, brushing becomes more difficult and more important to keep food particles from building up between the wires and teeth. When parents get braces for kids, one of their first questions is: Can their child over brush while wearing braces?
Can Teeth be Over Brushed?
While most moms only fantasize about their kids wanting to brush to the point of over brushing, in reality, it can be an issue when they've got a mouth full of wires and metal. When figuring out how to brush their teeth after being fitted, there is a fine line between brushing too much or not enough. According to Dr. Patricia Panucci, DDS it's almost impossible to over brush your teeth. Since food is going to get trapped more easily and often between the wires and teeth, it's imperative to brush as often as possible, preferably after every meal.
When Should I Brush?
While moms know it's difficult to get kids to brush their teeth or take a bath, they also know it's not a mission impossible. Most kids love to eat but don't love the idea of brushing afterward. However, in order to get the best results brushing will need to become a higher priority. Kids should learn to get in the habit of brushing their teeth after every meal, and should always brush their teeth first thing in the morning. Even if they haven't eaten breakfast, it's a good idea for them to brush their teeth to remove any food left over from the night before. Brushing should also be done after lunch, dinner and at bedtime.
Brushing On the Go
While brushing at home can be hard enough, kids may be very reluctant to brush their teeth while at school. However, brushing after lunch at school should be no different than brushing at home. Buying your child a dental care kit, complete with toothbrush, toothpaste and possibly mouthwash, can make it easier for them to brush their teeth while at school. These kits can also come in handy when they are staying at a friend's house or off on a school trip, and once they get used to it they will not think twice about using it.
When it's time to visit an orthodontist in Manhattan Beach, the one patients and parents continue to rank at the top of the list is Dr. Patricia Panucci. With a practice built upon customer service and caring for her patients, Dr. Panucci makes the orthodontic experience easy and fun. Her rapport with children is outstanding, and her community involvement is second-to-none. When it comes time to be fitted with braces Manhattan Beach provides the one doctor that makes smiles happen every day. For a consultation, contact Dr. Patricia Panucci at Beach Braces today.
Beach Braces
1730 Manhattan Beach Blvd.
Suite B, Manhattan Beach
CA 90266
TEL: 310-379-0006
Fax: (310) 379-7051
http://www.beachbraces.org/
Is Over Brushing Possible?
Related Posts
Save
http://www.beachbraces.org/wp-content/uploads/2014/05/4883591463_a91677a3a8.jpg
385
500
Dr Patricia Panucci
http://www.beachbraces.org/wp-content/uploads/2016/01/logo-beach-braces-orthodontics.png
Dr Patricia Panucci
2014-05-06 13:47:37
2016-07-31 08:33:04
Is Over Brushing Possible?