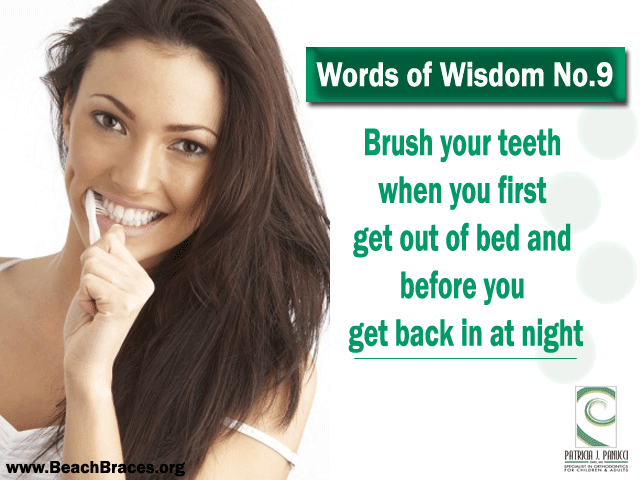 Words of Wisdom No.9: "Brush Your Teeth When You First Get Out of Bed and Before You Get Back In at Night"
Sleeping allows you to take rest for six to eight hours a day. It also means that you won't be able to brush your teeth during that time hence bacteria accumulate as you sleep. When you wake up in the morning, you might smell a very bad odor because of the bacterial growth inside your mouth hence you need to immediately brush your teeth when you get out of bed.
Kathleen W. Wilson, M.D., (an internist at the Ochsner Health Center in New Orleans and author of "When You Think You Are Falling Apart") said that there are two most crucial times for brushing your teeth. Since saliva dries up at night it is best to remove all plaque before going to sleep. Saliva keeps cavity causing plaque off your teeth. She also stressed that brushing your teeth first thing in the morning is recommended in order to brush off all the plaque accumulated during the night.
Therefore, you need to brush your teeth when you first get out of bed and before you get back in at night in order to make sure you are keeping your teeth and gums healthy all the time. Not being able to follow these steps religiously might cause your teeth to fall out even if you're too young to look like grandma or grandpa. Doing so might take time every day but it is the only way to ensure that you get to keep your teeth in the future.
For all the latest words of wisdom, news and competitions please like our Facebook page.
Dr Panucci – Beach Braces 1730 Manhattan Beach Blvd. Suite B, Manhattan Beach, CA 90266 
Brush Your Teeth Twice A Day
Related Posts
http://www.beachbraces.org/wp-content/uploads/2013/10/WW9-BB.png
480
640
Dr Patricia Panucci
http://www.beachbraces.org/wp-content/uploads/2016/01/logo-beach-braces-orthodontics.png
Dr Patricia Panucci
2014-01-16 09:00:24
2015-01-30 18:12:47
Brush Your Teeth Twice A Day