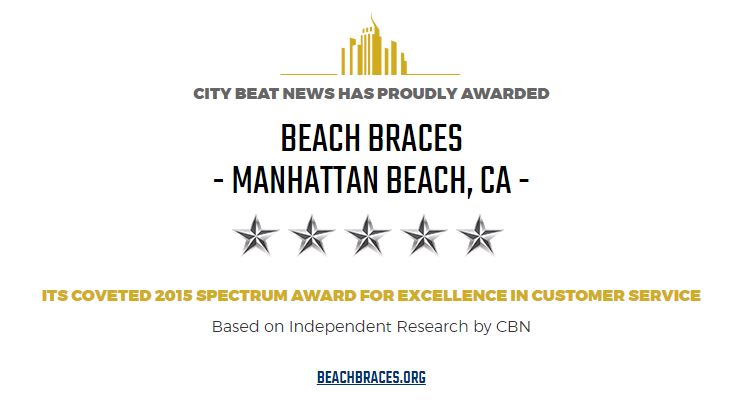 Manhattan Beach's orthodontics specialists Beach Braces has been awarded the 2015 City Beat News Spectrum Award for excellence in customer service. Led by Dr. Patricia J. Panucci, the Southern California firm has provided exceptional care for its clients using state-of-the-art technology and performing some of the most groundbreaking advanced procedures to ensure that their patients leave with confidence, a healthy grin, and a positive experience. Their commitment to personal care and continuing dental education with their customers has built them a solid reputation in the community, while ensuring a friendly and enjoyable environment to everyone who passes through their doors.
The orthodontic team provides a number of options including Invisalign, Lingual, and Esthetic braces as well as Wild Smile Brackets, utilizing modern digital radiography and photography along with advanced computer graphics to achieve impressive dental solutions. Their commitment to service and professionalism makes them stand out and smile in their field. The coveted City Beat News Spectrum Award for excellence in customer service further affirms that Beach Braces shines in their performance and care of patients, making them one of the area's most significant businesses. The award will help to showcase the talents, experience, and dedication to service that has made them so successful in their endeavors.
How Can I Start The Straightening Process?
If your child is in need of a straightening procedure, give a call to our Manhattan Beach, CA orthodontic practice. Our professionals are on hand ready to help you through the procedure and will explain the methods used in detail before they get started in properly straightening your child's teeth. An appointment can be made for an initial consultation if desired. We look forward to hearing from you!
Beach Braces, 1730 Manhattan Beach Blvd. Suite B, Manhattan Beach, CA 90266
TEL: 310-379-0006 Fax: (310) 379-7051.
Beach Braces has been awarded the 2015 City Beat News Spectrum Award 
Related Posts
http://www.beachbraces.org/wp-content/uploads/2016/01/logo-beach-braces-orthodontics.png
0
0
Dr Patricia Panucci
http://www.beachbraces.org/wp-content/uploads/2016/01/logo-beach-braces-orthodontics.png
Dr Patricia Panucci
2016-03-24 07:38:31
2018-02-11 18:35:36
Beach Braces has been awarded the 2015 City Beat News Spectrum Award