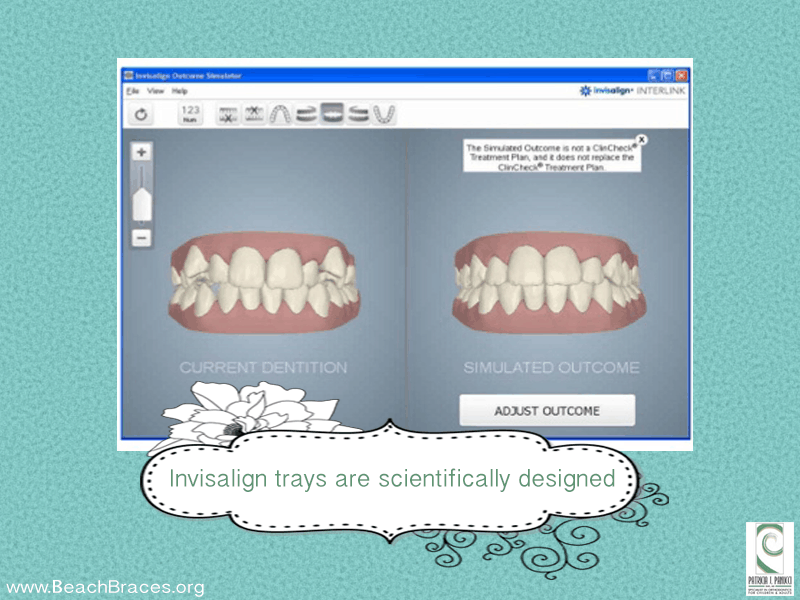 Benefits of Invisalign #8 Invisalign trays are scientifically designed
Instead of using the traditional treatment which includes complex wires and brackets, Invisalign is a clear system of aligners that will help you achieve the beautiful smile of your dreams. This system of treatment consists of multiple sets of aligners that you will rotate out every two weeks to help assist in the straightening and alignment of your teeth. Our orthodontist will first thoroughly examine you, discuss any previous dental and orthodontic treatment you may have had and then she will take precise molds of your teeth.
Scientifically designed system
These molds will be sent in to the company which in turn will create a precise series of trays which will help assist in the gradual straightening of your teeth. This scientifically designed system ensures your teeth will gradually move into the proper positioning. The aligner trays are laser cut and designed to give you maximum comfort and a winning esthetic during the process. Our orthodontist will schedule routine check-ups to ensure the system is working properly, but these check-ups are significantly less than those required with traditional treatment. This procedure is completely safe and a very effective way to create the perfect smile.
Call Today
When you are faced with orthodontic treatment and want the brightest smile possible, make an appointment to visit Beach Braces Orthodontics. With a caring and professional staff, this Manhattan Beach orthodontics practice will ensure you walk away happy and confident in your new smile!
Beach Braces, 1730 Manhattan Beach Blvd. Suite B, Manhattan Beach, CA 90266
TEL: 310-379-0006 Fax: (310) 379-7051.
Benefits of Invisalign #8
Related Posts
http://www.beachbraces.org/wp-content/uploads/2016/01/logo-beach-braces-orthodontics.png
0
0
Dr Patricia Panucci
http://www.beachbraces.org/wp-content/uploads/2016/01/logo-beach-braces-orthodontics.png
Dr Patricia Panucci
2015-04-23 10:00:00
2015-06-12 08:22:30
Benefits of Invisalign #8