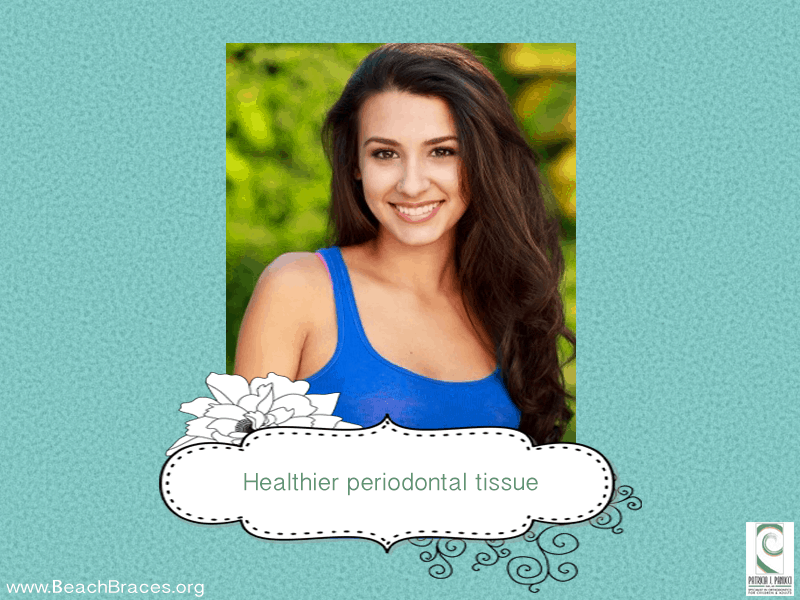 Benefits of Invisalign #5 Healthier periodontal tissue and less risk of enamel decalcification by avoiding brackets.
You probably have heard of the many benefits of Invisalign clear aligners, but there is new information concerning these dental appliances. Researchers have discovered that aligners help to reduce enamel decalcification such as the type caused by metallic brackets on traditional braces. In addition, patients wearing plastic aligners have healthier periodontal tissue. This means that orthodontic treatment with removable aligners is even more appropriate for mild malocclusions in the mouths of teenagers and adults. To determine if Invisalign aligners are recommended for your dental problems, schedule an appointment with an orthodontist. California residents can check online to see if Manhattan Beach Orthodontics is located nearby.
Brush Teeth Each Day
Selecting the orthodontics needed for your particular dental problems requires an examination with medical imaging. When clear aligners are acceptable, the orthodontist creates a series of molds using a three-dimensional computer software program. You receive 30 sets of aligners with different configurations to straighten teeth gradually. Your orthodontist decides how long each set is worn before throwing the item away to wear new aligners. For most patients, wearing each set for two weeks is recommended. You should wear the aligners as much as possible, but remove the appliances to perform oral health care.
Schedule an Appointment Today
Individualized orthodontic treatment is available at Manhattan Beach Orthodontics from Dr. Patricia J. Panucci. She offers a variety of orthodontics at her facility, including:
• Self ligating braces – allows fewer office visits
• Lingual appliances – worn on the back of your teeth
• Wild Smile brackets – great designs to express individuality
• Aesthetic appliances – ceramic made to match your teeth
• Invisible appliances – thin wires and small brackets
• Plastic aligners – made of clear but durable material
Contact Manhattan Beach Orthodontics today to schedule an appointment to determine the type of braces you or a child needs to have a strong dental bite and attractive smile.
Beach Braces, 1730 Manhattan Beach Blvd. Suite B, Manhattan Beach, CA 90266
TEL: 310-379-0006 Fax: (310) 379-7051.
Benefits of Invisalign #5
Related Posts
http://www.beachbraces.org/wp-content/uploads/2015/04/BB-Benefits5.png
600
800
Dr Patricia Panucci
http://www.beachbraces.org/wp-content/uploads/2016/01/logo-beach-braces-orthodontics.png
Dr Patricia Panucci
2015-04-02 10:00:00
2015-06-12 08:47:15
Benefits of Invisalign #5