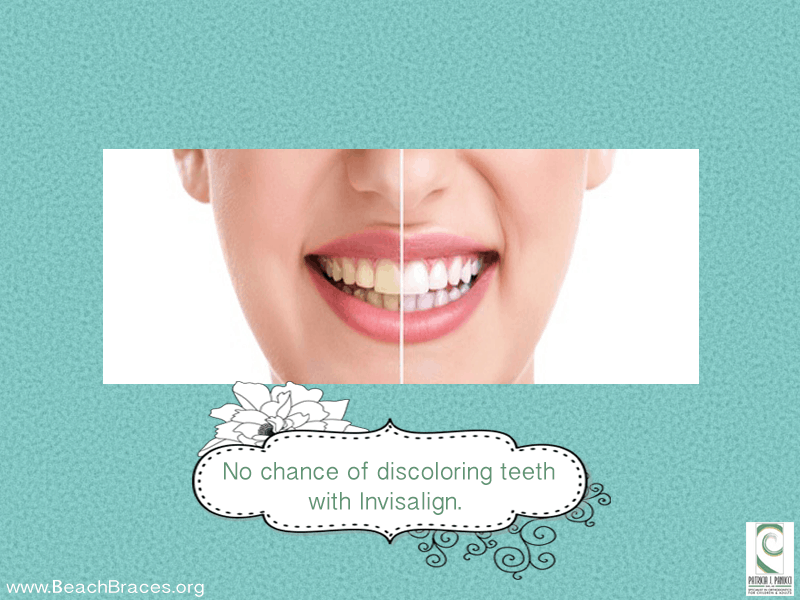 Benefits of Invisalign #10 No chance of discoloring teeth
If you are concerned about tooth discoloration from braces, Invisalign may be the right orthodontic treatment for you. This advantage is thanks to a lack of metal brackets and the ability to remove the aligners for daily dental hygiene. Here is more about how this treatment keeps smiles looking great.
Invisalign Does Not Use Brackets
With metal orthodontics, brackets are bonded directly to the enamel. If plaque, tartar and stains develop on the teeth in the meantime, an unsightly contrast between the bracket-covered spots and the rest of the enamel may be obvious after removal. Removable aligners eliminate uneven distribution of stains on the teeth during orthodontic treatment.
Cleaning Is Easy with Aligners
Because patients can easily remove their aligners to brush and floss, significant amounts of plaque and tartar are unlikely to build up on the enamel. Occasionally, patients can also use whitening toothpastes to removal any stains from lifestyle factors. By cleaning the aligners themselves, patients can further reduce risks of tooth discoloration. Our orthodontist can recommend a good cleaning solution for keeping the aligners clear.
Stains Can Be Avoided
Without brackets, patients are less likely to experience stains from foods and drinks. However, stains are even less likely to occur when patients limit or avoid dark-colored foods and drinks during orthodontic treatment. Tobacco, whether chewed or smoked, is another common source of stains and should be avoided altogether.
Call Today
When you are faced with orthodontic treatment and want the brightest smile possible, make an appointment to visit Beach Braces Orthodontics. With a caring and professional staff, this Manhattan Beach orthodontics practice will ensure you walk away happy and confident in your new smile!
Beach Braces, 1730 Manhattan Beach Blvd. Suite B, Manhattan Beach, CA 90266
TEL: 310-379-0006 Fax: (310) 379-7051.
Benefits of Invisalign #10 No chance of discoloring teeth
Related Posts
http://www.beachbraces.org/wp-content/uploads/2016/01/logo-beach-braces-orthodontics.png
0
0
Dr Patricia Panucci
http://www.beachbraces.org/wp-content/uploads/2016/01/logo-beach-braces-orthodontics.png
Dr Patricia Panucci
2015-05-07 10:00:00
2015-06-12 08:14:16
Benefits of Invisalign #10 No chance of discoloring teeth