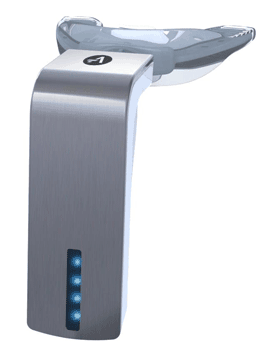 What is Acceledent ?
Acceledent is a brand-new treatment method that works to dramatically decrease treatment times for orthodontic patients. Acceledent is a revolutionary new system that works in conjunction with orthodontic appliances to cut the length of treatment times in half. If you lead a busy lifestyle and would like to severely accelerate the length of your treatment, Acceledent may be for you.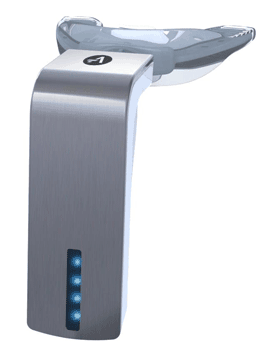 Instead of having to wear braces for up to two years, with the help of Acceledent you may be able to reduce the length of your treatment to even less than one year with braces on. We understand that orthodontic appliances can be a minor inconvenience for many of our patients this is why we are please to offer up this clinically proven method for moving teeth up to 50% faster.
Acceledent works by applying specially calibrated micro-pulses through a special mouthpiece that is designed to gradually accelerate the movement of your teeth with orthodontic appliances. This patented soft pulse technology will very gently vibrate through your teeth and gums to gently move teeth into position and accelerate teeth movement guided by your existing orthodontic appliance. These micro-pulses are extremely safe and work to accelerate tooth movement and bone remodeling.
Acceledent is 100% approved by the FDA and has been used by thousands of patients across the world since 2009. Although not every Orthodontist can offer  Acceledent we are pleased to confirm this treatment is available at our office.
Acceledent works by inserting a special mouthpiece with the pulse activator for  20 minutes a day. If patients can commit to using Acceledent for  at least 20 minutes a day with the special mouthpiece, they can see a real impact when it comes to their orthodontic treatment. Mouthpieces need to be fitted specifically around your orthodontic appliances and this may require a special mould. Care and cleaning for mouthpieces is also included in the Acceledent package so that you can effectively sanitize the mouthpiece after you complete treatment.
With new tools such as Acceledent orthodontists are making treatment options for fixing and straightening teeth much quicker than ever before. Braces used to be a large inconvenience, as Acceledent continues to develop there is no telling where the future of orthodontic technology can go.
Contact us for a free consultation and get more information about Acceledent.
Dr Panucci – Beach Braces 1730 Manhattan Beach Blvd. Suite B, Manhattan Beach, CA 90266 TEL: 310-379-0006 Fax: (310) 379-7051.
 Acceledent, a new method to shorten your Orthodontic treatment time.
http://www.beachbraces.org/wp-content/uploads/2013/07/acceledent_vibrator.png
347
263
Dr Patricia Panucci
http://www.beachbraces.org/wp-content/uploads/2016/01/logo-beach-braces-orthodontics.png
Dr Patricia Panucci
2013-07-25 19:00:18
2013-09-26 00:34:29
Acceledent, a new method to shorten your orthodontic treatment time