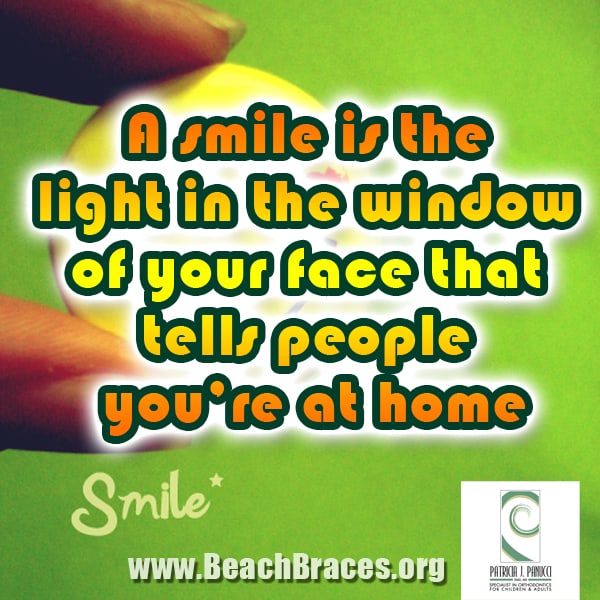 "A smile is the light in the window of your face that tells people you're at home."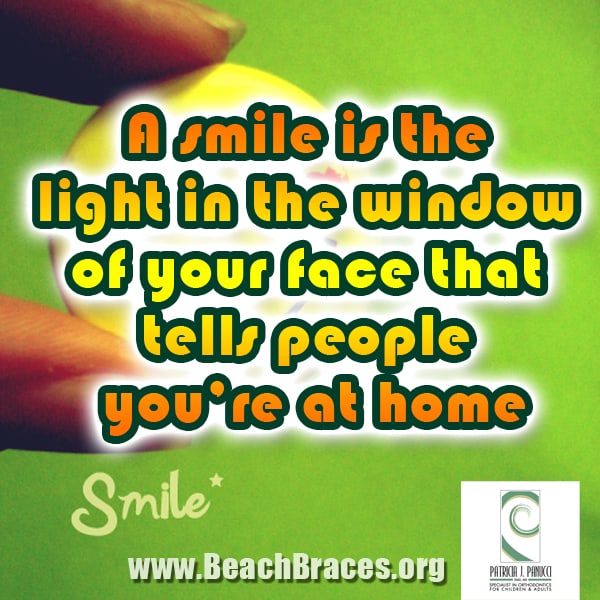 Beach Braces Smile Quote #24 "A smile is the light in the window of your face that tells people you're at home."
Showing others that you are confident, happy and content is very important to connecting with other people and remaining approachable. A smile is a universal symbol for showing that you are comfortable and that you are at home in your own skin. You would be amazed at the amount of people that might approach you if you simply include a smile in items that you wear daily.
People who walk around confident with a smile on their face managed to see life in a different way. Not only does it make them more approachable but it can also work to make others feel much more content and happy around them. Smiles are something that is meant to be shared, after all a smile is a universal symbol showing that you are happy and by showing off your smile to other people that care about you they can't help but feel happy as well.
It can be easy to lose a smile when you are stressed, overthinking aspects of your job or even just having a difficult day but it is important to remember to take some time for yourself and to do something that makes you smile. A smile during a time of weakness or during a difficult time is a great way to show people that you still have hope and that you are still confident in your own abilities. A smile is the perfect way to show that you are happy to be in their company and you are fulfilled as a person.
If you're having trouble with your teeth, feel free to contact Dr Panucci to increase your happiness showing off your radiant smile. You can get a free consultation by clicking here!
Beach Braces 1730 Manhattan Beach Blvd. Suite B, Manhattan Beach, CA 90266 TEL: 310-379-0006 Fax: (310) 379-7051
A smile is the light in the window of your face that tells people you're at home.
Related Posts
http://www.beachbraces.org/wp-content/uploads/2013/07/people.jpg
600
600
Dr Patricia Panucci
http://www.beachbraces.org/wp-content/uploads/2016/01/logo-beach-braces-orthodontics.png
Dr Patricia Panucci
2013-07-19 21:30:28
2015-05-08 00:08:42
A smile is the light in the window of your face