Gratitude can be traced back to a happy, satisfied heart. However, people can't really see a happy heart. They can see your smile, though. Make sure you show the best smile possible to everyone. At Beach Braces, Dr. Panucci, the orthodontist, can give you a fantastic smile. Using it often will be up to you.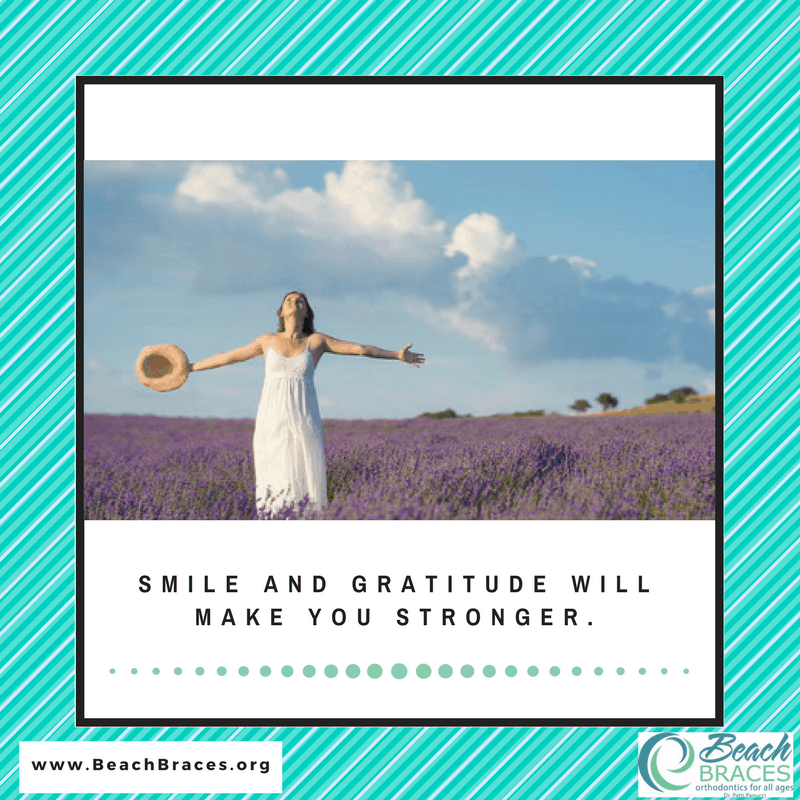 Combining high-tech imagery, state-of-the-art equipment and several different treatment options, the team at Beach Braces will make sure your teeth are healthy, straight and beautiful. A few of our services offered are:
Acceledent
Lingual braces
Esthetic (clear) braces
There is More…
Using such things as the i-CAT 3D Scanner for customized treatment and the Acceledent aura treatment option, which cuts down your treatment time by 50%, we can help you to have a gorgeous smile in a short amount of time. If you would rather people see you than your braces, the Invisalign aligners are clear and removable.
Kids and teens will enjoy the Wildsmiles we offer. Brackets like hearts and footballs combine with colorful bands to make truly customized options that are as unique as your child. Pick diamonds or school colors.
Consult an Expert
The strength of your smile doesn't have to come with bulky, noticeable hardware. A consultation with Dr. Panucci can answer all of your questions. The consultation is free. The team can then devise a treatment plan that will best suit your needs. The treatment coordinator and the dental assistants will make sure that your visits go smooth and quickly.
Orthodontist not only give you a great smile – they also fix common problems. Overbites, misaligned teeth and more can be corrected with the right treatments. Contact Beach Braces today to feel the strength that a great smile will give you. Then show off your gratitude by smiling every day!
Beach Braces Orthodontics
220 N. Aviation Blvd
Suite A
Manhattan Beach
CA 90266
Phone: (310) 379-0006
Skype: Beachbraces
Smile and Gratitude Will Make you Stronger
http://www.beachbraces.org/wp-content/uploads/2017/05/2.BB-May2017.png
800
800
Guest Post
http://www.beachbraces.org/wp-content/uploads/2016/01/logo-beach-braces-orthodontics.png
Guest Post
2017-05-08 09:16:54
2017-05-06 23:20:22
Smile and Gratitude Will Make you Stronger